Leapfrog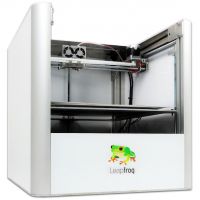 Leapfrog started as a new Dutch startup in 2012 and in a year's time they have made their name known in the market.
Their current product range has two machines:
Creatr
The low cost machine to which you connect your own PC (or Mac). Install the software and start printing.
Xeed
The professional version with embedded computer. Just send your 3D (STL) model to the machine and let it do the rest.
I have a Creatr. This machine comes in two flavours: a single head with one extruder and a dual head with two extruders. I just received an upgrade with a second extruder but that is not mounted yet.
Filaments: Specialties
Since some time now Plastic2Print is my main filament provider. This shop is located in the Netherlands, has a lot of different filaments in stock and has a next day delivery (not guaranteed but when I order in the evening it is shipped the next day and delivered the day after so that's next business day delivery up to now.
The latest delivery includes Arnitel, a flexible filament, PET, the stuff that plastic bottles are being made of, and PVA.
PVA is a water soluable and needs to be stored in a dry place since it is also hygroscopic. Leave PVA out in the open for a longer time and it will become all tacky and unusable for 3D printing.
I wanted to make sure the filament is 'fresh' so I asked how this is stored: in a vacuum bag with extra bubble wrap around it. So here it is; bubble wrapped vacuumbag with a roll of PVA and there is a large bag of silica gel in there also. That's how it should be.
Some tech. specs
Most details you can find on the Leapfrog website but here are some technical details that you will not find on the website.
Stepper drivers: standard industry drivers from Leadshine
Transport: HDT 3mm timing belts with 16 teeth pulleys and round steel axes with linear ball bearing modules
Stepper motors: set to 1600 steps/rev microstepping (0.03mm resolution)
Z axes transport using ball screw spindles (no separate linear guides used)
All aluminum construction using laser cut 4mm sheet aluminum, carriages and extruder constructed using "3D puzzle technique"
extruder pre-set for 1.75mm filament, pressure is not adjustable (yet ...)
nozzle size of 0.35 mm
Housing: aluminum extruded profile, front and side walls glued in place, back wall can be removed for service access.
Buid size (according to website) (W x D x H): 250 x 270 x 300 mm
Measured about 220 x 250 mm for W x D on the dual head version.