BeagleBox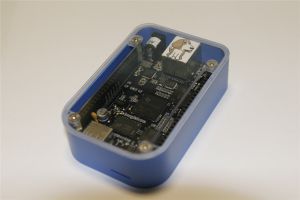 To protect the BeagleBone it needs an enclosure.
You can buy an enclosure or download one from Thingiverse to laser-cut or 3D-print. After looking at different designs at Thingiverse I decided to make my own. I still have some pieces of Obomodulan and the CNC milling machine is already waiting for its next job.
Some specs:
small
access to power plug, network interface, mini USB and μSD
no need (yet) for USB host or μHDMI
transparent cover
P8 and P9 connectors available to add I/O
The enclosure exactly fits the BeagleBone PCB, the inside is just 0.3mm wider than the PCBs dimensions and it is exactly high enough to mount a transparent lid.
Dimensions are: 92 x 60.2 x 23.6 mm so almost the same size as an original Altoids tin.
The walls have a thickness of 2.5mm, making sure that the connectors and the μSD card are almost flush with the outside of the box.
Photos
The photos show about all the details you want to know.
The stand-offs have an M3 thread on the bottom to fix the PCB. When mounting a cape these are 10mm long or 15mm when using the BeagleBone as a stand-alone device.
The lid is made out of 3mm polycarbonate with a 1mm recess to make sure it perfectly fits but without the recess it is easier to make (can be laser-cut instead of CNC milled).
Design files
If you want to make your own BeagleBox, here are the files:

Beagle-box.pdf, drawing with measurements

BeagleBone-box.dxf, dxf file for milling

BeagleBone-box.sldprt, SolidWorks 2010 part
All files are © 2013, BikeAlive.nl. Free for non commercial use.