Makerpoint Arnhem

As Sander Smit, co-founder of MakerPoint will tell you: "MakerPoint brings 3D technology to you". I would phrase this a bit different but I can not find the proper words for this.
MakerPoint makes 3D 'technology' available for the common public, for all of us, and they do this through both an online and an offline store. The online store is a mix of all things 3D: 3D jewelry, gifts, toys, printers, software, filament and 3D scanners and worth a visit. If you want the full experience, you must go to Arhnem and pay them a visit to find out that this has nothing to do with 'technology' by itself.
The front part of the store is dedicated towards the jewelry, gifts and toys. Ae you looking for some nice jewelry for your girlfriend or wife or just looking for some nice jewelry to stand out of the crowd then you must have a look at this. Yes, you can see all the jewelry in the online store but to get the real experience you should see this yourself in Arnhem.
The back of the store is reserved for the 3D printers, filaments and more. Do you own a 3D printer, are you looking to buy one or do you want to have something 3D printed yourself? Then this is where you should go.
3D printers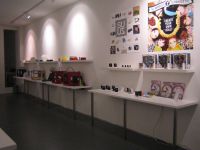 The Ultimaker, Ultimaker 2, Cube 3D, Makerbot replicator and the 3D Builder are sitting here nicely next to each other. All printers are ready to print or printing.
If you are looking to buy a 3D printer, here you have a nice comparison of some of a nice variety of printers that are currently on the market. Explain what you want and what your budget is and you will get some great advice on which 3D printer might be for you.
Not ready to buy a 3D printer yet but still want to print something yourself? Then why not just rent some time on any of the available 3D printers to print something yourself. Don't worry, you will get help to start printing.
Bring your own designs, possibly your own laptop too, and a few hours later you will leave the store with the things you made.
3D filaments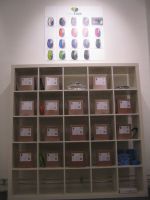 If you already own a 3D printer, like I do, then have a look at the 3D filaments that MakerPoint sells.
Currently this is limited to cartridges for the Cube 3D and materials from ColorFabb for all other printers.
ColorFabb was selected for the quality of their filaments: the PLA based materials not only print very well but they also have very vibrant colors.
As I would have expected hoped, some filamant was unboxed to see the actual color. The white filament (RAL9010 according to the label on the box) is not paper white but a very nice warm white, orange (I must note some more RAL colors next time) is called 'Dutch orange" and is as bright and shiny as an orange (the fruit) can be.
I am handed some transparent green filament: "we don't have this in stock but if you want I can order this for you". There is also some transparent green from MakerBot, the ColorFabb green is a much brighter color. I almost cannot resist to order some ...
Not all colors have actual samples available: "we only unbox colors when we use them ourselves, customers always get their filament in the original sealed package". Luckily there are photos showing the colors and these photos match the actual colors - at least for the colors I have been able to check.
I am getting greedy by all of this and in the end I leave with just one box of sky blue (Ral5015) filament and an order for silver and gold.